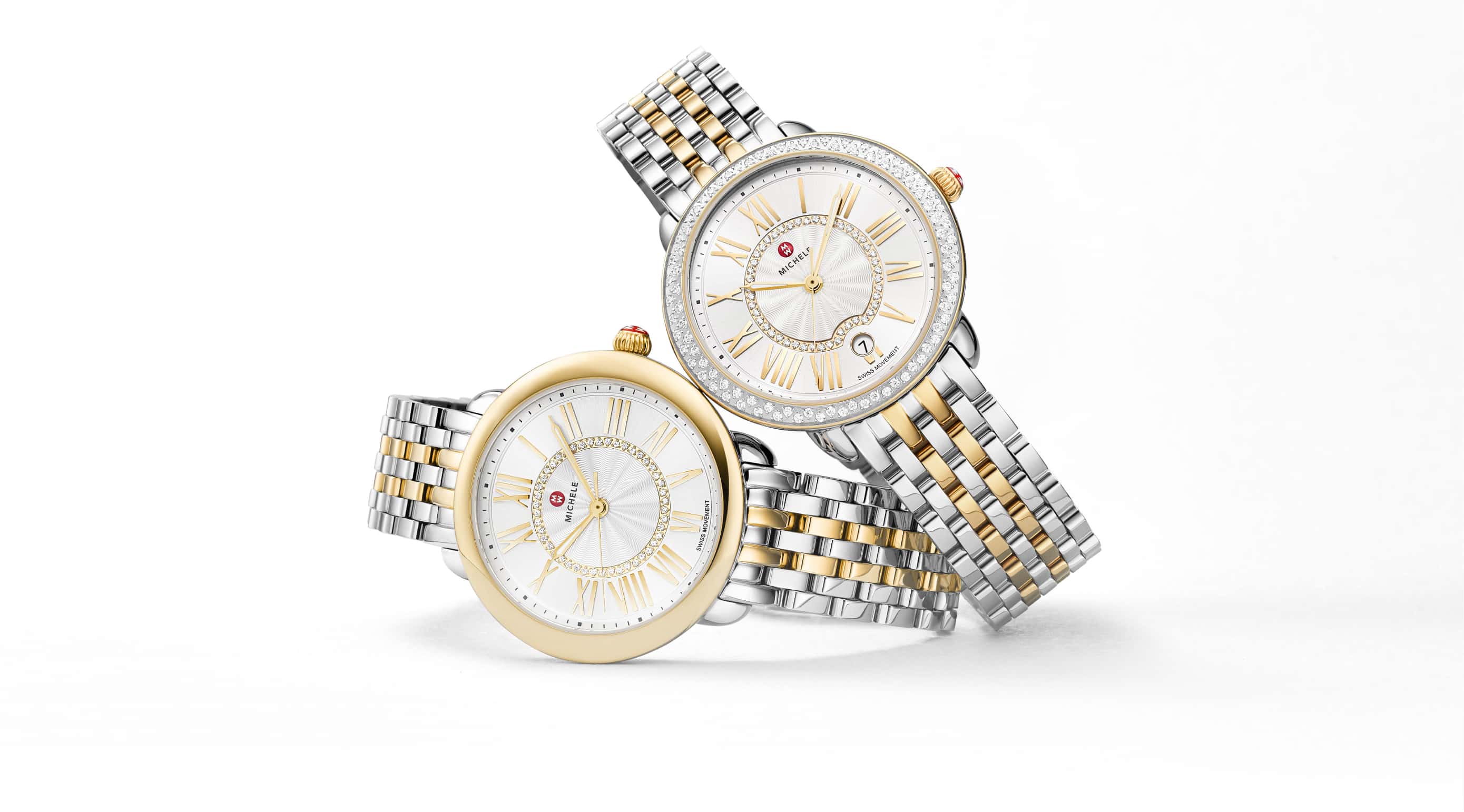 the serein collection
Feminine, elegant and timeless, the Serein features effortless curves with brilliant diamonds to integrate poise with functionality.
The Serein Collection
Serein Watches Combine Effortless Curves & Brilliant Diamonds For Luxury Style
As a modern woman, you want it all. From the dream house, soul mate and kids to being the CEO of your own company and owning your style; you're building a life that inspires those around you. Create inspiration and embrace your inner confidence with our beautiful Serein watches. The gorgeous round silhouette of these MICHELE timepieces looks fabulous with anything you pair them with. Handset diamonds add brilliance and irresistible shine to your day while 18K gold plating and two-tone design styles perfectly complement who you are. You love who you are, who you're becoming and the life you've created. You're happy in your skin and ready to take on the world with a smile – embracing the best things life has to offer. Complement your journey and give yourself something to aspire to with a Serein watch.
Serein Collection: Beautiful Watches That Inspire You To Dream
You didn't get to where you are today by just winging it. It started with a dream that turned into a plan that became an action and is now a reality. Like the watches in our Serein Collection, you're bold and unapologetic when it comes to your style and convictions. You never settle for less and we love that about you. Reward your hard work and dedication to creating a life you love with our Serein watches. You've mastered the art of combining a strong work ethic and sharp mind with beautiful, feminine style to create a look that is always on point. Whether you style your Serein Collection watch with your favorite date night dress or you use it to add a touch of elegance to your everyday looks, you'll love the gorgeous details and secure confidence these watches bring to the table. Embrace your style like never before and continue pursuing your dreams with our Serein watches from MICHELE.